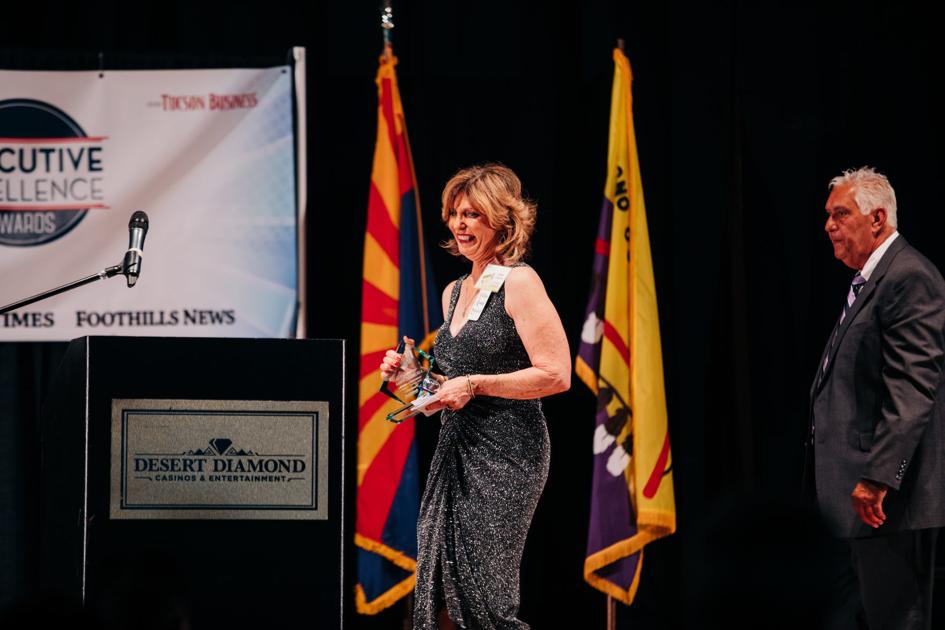 Just a handful of the many influential women in Tucson were honored at the annual Women of Influence Awards, hosted by Tucson Local Media and Inside Tucson Business. A packed ballroom of 644 finalists and guests convened in the Desert Diamond Casino's Diamond Center to hear from some of Tucson's best and brightest women.
From 19 different categories, three women finalists were invited to bring their friends, coworkers and families to celebrate on Wednesday evening, where one woman from each category was chosen to be the winner by a panelist of three judges who won in previous years of the event.
The keynote speaker, Barbi Reuter, was named a Tucson Woman of Influence in 2012 and returned this year to share insights with the other honorees as the event's keynote speaker. These local women are business owners, public servants, service providers, rising community leaders and much more.
"I cannot tell you how much pressure it is to say something inspiring to a room of inspirational people, but I will do my best," Reuter said.
She talked about her personal experiences with self doubt and "imposter syndrome" during her long and successful career with commercial real estate company Cushman & Wakefield | PICOR. After landing an internship with the firm while she was in college, Reuter worked her way to the top spot as current president.
"The imposter syndrome sneaks up on us," she said. "It holds us back and it amplifies our self doubt. So we dial down the volume on that voice and crank up the other one. The one we need to nourish. The one that says 'You are worthy, you are special.'"
Winners shared similar experiences during their acceptance speeches. Stephanie Bermudez, who won Minority Business Owner of the Year, created the business project Startup Unidos which helps support underserved populations of Southern Arizona and northern Mexico. She previously worked to develop the Connect Coworking office spaces in the heart of downtown Tucson.
Bermudez said her story is one of perseverance, where after becoming a mother at 19 years old she refused to become a statistic and worked hard to become a successful leader in her local community. She said her intent with Startup Unidos is to help other people with similar backgrounds reach as far as she went and beyond.
Denisse Angulo-Badilla, who was named Real Estate Champion, also works at Cushman & Wakefield | PICOR as the only female licensed real estate agent in the community who does business on both sides of the U.S.-Mexico border. She attributed her success to her mother and father who supported her through school and enabled her to move to the United States and build a new and successful life here in Tucson.
Reuter also mentioned her mother as influential to her success, who lived by an ethic of "never give up" which was memorialized on a pendant she wore after becoming faced with a disability.
"She modeled strength and determination for her household of girls," Reuter said. "She encouraged us to spread out wings, experience the arts, do our best and live by the golden rule. She allowed me to wheel her in for the 2012 Women of Influence event and we were blessed to have her for three more years."
Karen Cesare, owner of landscape architecture firm Novak Environmental, Inc., received the Lifetime Achievement Award and shared how her family shaped her trajectory for success.
"Dad, when you had your own business when I was growing up you showed me how to run a business with consistency, integrity and just plain old hard work," Cesare said. "Mom, among the many things you taught me, 'Look around and see what needs to be done and just do it, without waiting to be asked' has to be the best advice ever."
She closed her acceptance speech urging the young attendees to head her mother's advice. Look around, see what needs to be done, and just do it.
While almost every finalist of this year's Women of Influence Awards was involved in nonprofit or volunteer work in some capacity, Reuter encouraged everyone in the room to give back, because that is what success is really about.
"If you've been honored tonight, it is your turn to pay it forward," Reuter said. "Nominate a colleague, mentor a student or connect an up and comer. Make a connection, open a door. A nomination is an honor, an award--fabulous, but the work you do and the communities you serve--life-changing. Keep making a difference."
Women of Influence 2019
Winners and Finalists
Administrative Champion
V'Eanna Marsden, Alive Christian Fellowship
Michelle Simon, Pima County Public Library
Wendy Kurtin, Genesis OB/GYN
Arts and Culture Champion
Mary-Beth Cabana, Ballet Tucson
Lynn Rae Lowe, Rose Petal Family Foundation
Nicole Dahl, Hotel McCoy
Community Service Champion
Judy L. Huch, AuD, Oro Valley Audiology, Inc.
Susan Scherl, HOPE Animal Shelter
Vanessa Ojeda-Gomez, Women & Gender Resource Center
Education Champion
Carrie Brennan, City Center for Collaborative Learning
Gail D. Burdm, Ph.D., University of Arizona
Raena Janes, La Paloma Academy
Financial banking Champion
Sandra P. Barton, Alliance Bank of Arizona
Laura Walton, TCI Foundation
Linda Immerman-Stoffers, Schaefer Present & Stoffers at RBC Wealth Management
Food Service Champion
Sammie Jesser, Copper Brothel Brewery
Michelle Ecret, eegee's
Wendy Garcia, Tumerico
Healthcare Champion
Margie Balfour, M.D., Ph.D., ConnectionsAZ
Joy Naynes, FNP, MPH, El Rio
Monica Kraft, MD, University of Arizona College of Medicine
Legal Champion
Heather Strickland, MyersStrickland, PLLC
Gloria Goldman, Goldman & Goldman, PC
Riisa Petersen Mandel, Peterson Law Firm, PLLC
Licensed Professional Champion
Kayla Boyer, Speedway Veterinary
Jennifer Chenault, Lovitt & Touche
Sally Bach, G2 Contracting, LLC
Nonprofit Champion
Sonia Valencia-Economou, HTG Molecular
Donna Crawford, Angel Charity for Children, Inc.
Nicola Hartmann, Youth On Their Own
PR/Marketing/Advertising Champion
Mary Rittmann, Visit Tucson
Debra Stephens, Showard Law Firm
Holly Polston, Garment Graphics and Promotional Products
Public Service Champion
Sarah Haught, Tucson Police Department
Ally Miller, Pima County Board of Supervisors
Karyn Prechtel-Altman, Pima County Public Library
Real Estate Champion
Denisse Angulo-Badilla, Cushman & Wakefield | PICOR
Bridgett Baldwin, Berkshire Hathaway Home Services
Nicole Churchill, The Vanguard Group, Exp Realty
Recreation/Hospitality Champion
Janet Hare, Doubletree Hotel by Hilton Tucson at Reid Park
Candace Carrillo, Stillwell House and Garden
Kathrina Berg, The Highlands at Dove Mountain
Rising Star
Rosalind Prather, Trusting Connections Nanny Agency
Gabrielle Shoun, MS, LASC, Sierra Tucson
Jackie Garcia, Hotel McCoy
Technology Champion
Dr. Katherin J. Herrick, Raytheon Company
Caitlin Clancy, Sunquest Information Systems
Yvonney Huth, CITI
Business Owner of the Year
Emily Goff, Arizona Zipline Adventures
Maria Mazon, BOCA Tacos
Shirley Dail, Shirley's Plan Service
Minority Business Owner
Stephanie Bermudez, Startup Unidos
Cecilia Mata, AllSource Global management, LLC
Olga Chausovskya, European Market and Deli
Entrepreneur of the Year
Cheri Romanowski, Cheri's Desert Harvest
Jennifer Parks, Jade Star Acupuncture & Wellness
Laura Levin, Modern Studios
Lifetime Achievement
Karen Cesare, RLA, Novak Environmental, Inc